DzDz
動次動次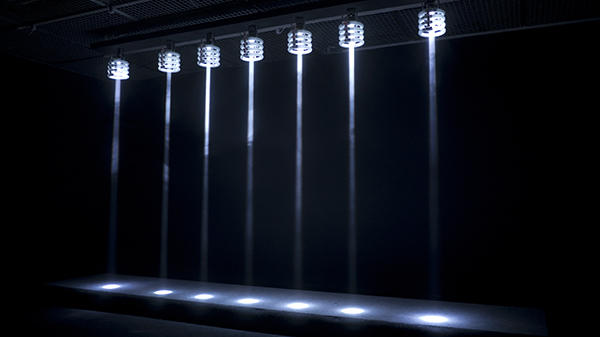 Installation
Electronic devices, fluorescent lamps
600cm (W) x 400cm (D) x 300cm (H)
2015


YAO Chung-Han tried to deconstruct sound by eliminating the elements of sound in traditional musical instrument, and furthermore refined pure and accurate sound. However in recent years, Yao Chung-Han thought abstract and cold sound creates distance between the art works and audiences' physical experiences, as well as oppressing hidden sentimental needs inside human being. Hence he started to bring warmth of humanity to abstract sound.

DzDz blurs the boundary between sound installation and live performance. Yao Chung-Han attempts to question his older works that were colder, more abstract and that were very particular in the aesthetics of order. Simultaneously through the interference and interaction of audiences with light beams, he explores corresponding relation between rhythms of audiences and noise created by fluorescent light.



創作過程中,姚仲涵常嘗試將聲音解構,去除傳統樂器的聲音元素,進而提煉出純粹而精準的聲響。然而近幾年,姚仲涵認為抽象冷調的聲響,常使作品與觀眾的身體感知產生距離,壓抑住人性中潛藏的感性需求,因此開始嘗試將抽象的聲響帶入人性的感知溫度。

作品〈動次動次〉模糊聲音裝置與現場演出的界限,對其過去作品較為冷調、抽象、講究整齊的美學提出疑問,同時也藉由觀眾對於光束的介入與互動,探討觀眾與日光燈噪音之間的節奏對應關係。